Always wanted to follow a detox cure?
In our restless society it is very difficult to follow a detox cure at home, you are constantly tempted or distracted by daily activities. During a detox cure holiday at Health Holidays you can detoxify your body and at the same time completely relax.
Detox cure, juice fastening, cures, detoxification…
With regard to a detox cure you will encounter many different terms on the internet such as detox, juice fastening, detoxification, cures and detoxification. In the end these terms have the same meaning; rid the body of toxins and waste. The translation of the English word 'detoxing' is equivalent to the Dutch word 'detoxing'. Sapfast is the method to detoxify your body. Detoxification is a consequence of juice fastening. During juice retention your intestines are cleaned from residual waste, the slag.
Why is detoxing so important?
Although the human body is very flexible and self-regulating, at a certain moment your body will no longer be able to cope with the devastating consequences of your diet. Essential organs and vessels become clogged with plaque, so that optimal blood flow can not take place. This poor blood circulation leads to disruptions in your metabolism, anemia, high cholesterol, gout, high blood pressure, thyroid problems, lethargy and overweight. They are all annoying consequences of organs that function poorly.
The result of your detox treatment
Our detox treatment provides an improved blood circulation so that all your organs work better again. Our sports program sets your body in motion. This allows you to put the lungs, the heart and all muscles at work to distribute oxygen and nutrients through your body. Your blood will have the chance to make more red blood cells, which in turn provide a better oxygen supply to all organs. You give yourself a great cleaning, both physically and mentally.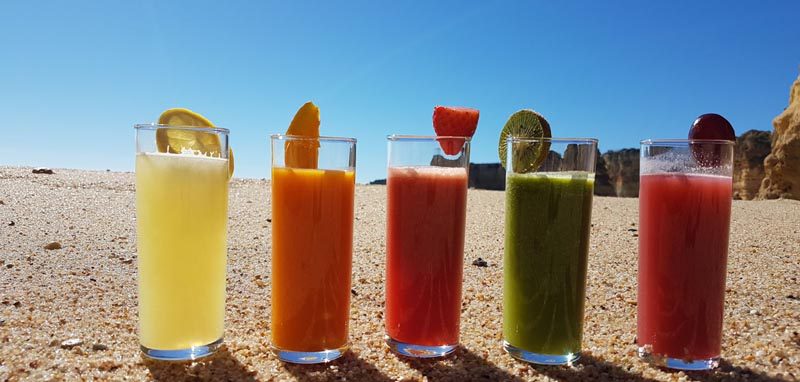 A detox cure at Health Holidays
At Health Holidays you can follow a detox cure with sports program on a sunny destination in Portugal, Turkey or on the Canary Island of Fuerteventura. You eat four freshly squeezed juices of fruit and vegetables and sport three times a day. The freshly squeezed juices are composed in such a way that you get all the necessary nutrients.
In contrast to many other detox treatments, there are no fibers in our juices, so that:
the juices can pass the intestinal wall very quickly and all the nutrients almost immediately enter the bloodstream.
the juices are completely absorbable, which means that you need considerably less than normal food.
the sense of hunger is limited and in a healthy way much weight loss is possible in a short period of time.
After a few days of detoxing you will notice that the feeling of hunger is not present, because your body receives all the necessary substances in optimal form. Your body finally gets the opportunity to remove all waste.
Professional guidance
When you book a detox cure at Health Holidays, you will receive extensive documentation about the program. Of course you follow the detox cure under professional Dutch speaking guidance and we also guide you before and after your holiday with a reduction and accrual period.
Do you want one-on-one guidance? That is also possible. We are happy to make a tailor-made offer for you!
Your travel companions
You follow this slimming trip in a group. The company is always very varied. You will meet people of all ages, many young people, very sensible seventies who want to get everything out of life, both men and women, individuals and duos. Most of our guests travel alone. With like-minded souls you will experience this very healthy and enjoyable spa trip.