Detox
The word detox is used a lot these days. You can buy detox tea, detox tablets, detox pills, detox supplements and even foot patches. But to what extent do you really detoxify your body with this?
Health comes from within, so a detox of your body only works from within. In order for your body to undergo a real detox, decisive measures are needed.
Cleanse your body with a health journey
During our detox journey you detoxify your body in the most natural way. You consume four freshly squeezed fruit and vegetable juices every day, unheated and without additives. You can also participate in three different sports moments every day, consisting of a running training, a body shape and an aqua training. We bring a lot of variation and different levels, so there is something for everyone. Fun during exercise is very important, so that you can maintain this even after the detox.
Freshly squeezes juices
Our juices do not contain fiber, so the juices can very quickly pass the intestinal wall and all nutrients enter the bloodstream almost immediately. Moreover, this makes the juices fully absorbable, so that you need considerably less than solid food.
The juices are formulated in such a way that you get all the necessary nutrients. It contains all the vitamins, minerals and amino acids that a person needs. Proteins are made up of amino acids. Apart from methionine, leucine and isoleucine, all the necessary amino acids (protein elements) are contained in carrot juice. But methionine is, among other things, in your daily apple juice and leucine / isoleucine is in the cold-pressed olive oil. The juices also contain sufficient carbohydrates, so that you continue to feel good and the feeling of hunger is limited.
Read more about our juice cure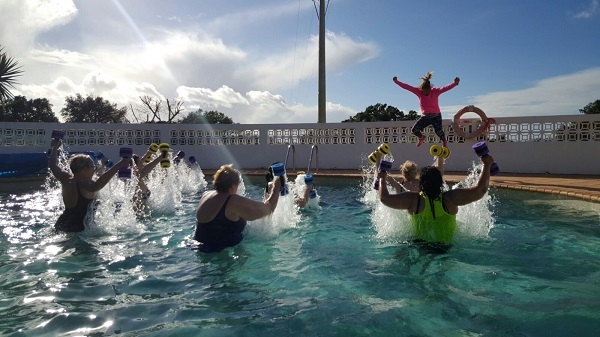 The result of our detox method
Of all the functions of the human body, your digestive system requires the most energy. Thanks to our juices, your digestive system gets rest, so that the released energy benefits the sports moments and the detox of your body. The energy will also be used to cleanse your body down to the deepest pores and the smallest veins. Stored toxins are removed, so that all organs can function optimally again.
Improved oxygen supply
In addition to the juice fast, you will learn, thanks to the sports program, how to exercise properly. By exercising regularly, you put the lungs, heart and all other muscles to work to free you from blockages in your organs, tissues and energy system. Your blood will now have the chance to produce more red blood cells, which in turn ensure a better oxygen supply to all organs.
Your travel companions
You will follow our detox in a friendly group with people of all ages. More than 80% of our guests travel alone and it is therefore not necessary to find a travel companion. Moreover, all activities are completely without obligation. Everything is allowed, nothing is mandatory!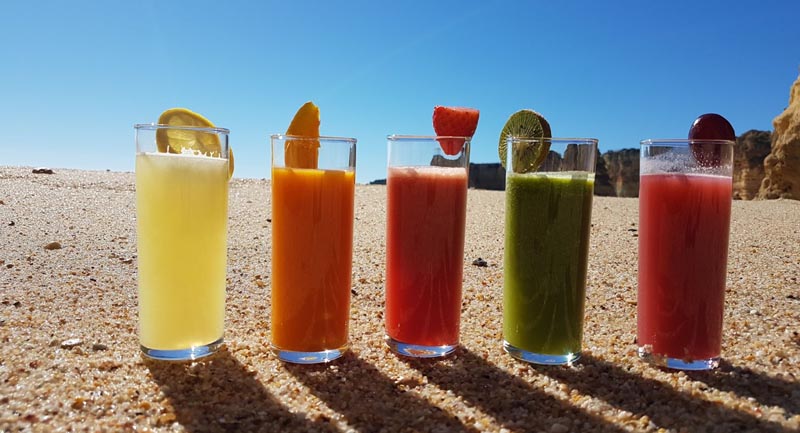 Destinations
As a travel organization for health holidays, we ensure that you can de-stress. That is why we organize the entire juice cure trip for you from departure to return. Our health trips take place in beautiful destinations such as the Algarve in Portugal, the charming Kaş in Turkey and the cozy Corralejo on the Canary Island of Fuerteventura.
Travel guidance
Your detox trip is taken care of from A to Z and our travel sum includes flight. We take care of everything from the moment of booking up to and including returning home. You will receive extensive information about what to expect from the detox, what to look out for, how to best prepare and what to bring with you. Our trips also come under the security and guarantee of the ANVR, SGR and the Calamity Fund. This way you know that you are booking your holiday with a reliable party.
Preparing for your trip
When you book a detox cure with Health Holidays, you will receive extensive documentation about the juice treatments and the sports program. Of course we also guide you before and after your juice cure with a dismantling and building up period.
Guidance on the spot
On site, you will receive an intake interview with our highly involved Dutch-speaking guidance, so that they know your medical background, mental well-being and final goals. During this intake interview your blood pressure and heart rate will also be measured and your body will be weighed. This way, they can provide you with the personal attention you need.
Would you like one-on-one guidance?
That is also possible. We are happy to make a tailor-made offer for you!
What is included?
A detox holiday can be booked from € 999, – for an 8-day trip. The following aspects are included in the travel sum as standard:
Flight including hand luggage
Transfer from the airport to the accommodation and vice versa
Stay in your chosen room type
Juice treatment and sports program under professional Dutch-speaking guidance
Personal intake and final evaluation
Unlimited water and herbal tea
Extensive information prior to / during the trip and upon return
Well-stocked healthy bag for your return journey
Security and (financial) guarantee from ANVR, SGR and the Calamity Fund
In addition, extra aspects may be included in the travel sum per destination. Think of wireless internet, entrance to the Day Spa or nice trips.
Would you like to know more about the program, destinations and accommodations of our health holidays? Request our brochure free of charge!